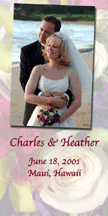 John Henry Photography takes great pride in producing the highest quality color photographs. Our talented staff will design a beautiful and elegant card for you to send out as an announcement, thank-you, or Christmas card. You may choose a design from our sample card selection, or request a special custom design. You may also select the wording and font style. Sizes available are 4x5, 4x6, 4x8, and 5x7.
4x8
or 5x7
$4.00 each
$3.75 each
$3.50 each
4x5 or 4x6
$3.00 each
$2.50 each
$2.00 each

Minimum order of 25 prints from the same image or design.
Wallet*
$2.50 each
$2.25 each
$2.00 each
* Wallets must be orderd in sets of 8
Note: Please specify if you wish to have horizontal or vertical cropping on all rectangular prints; otherwise we will use our best judgment.